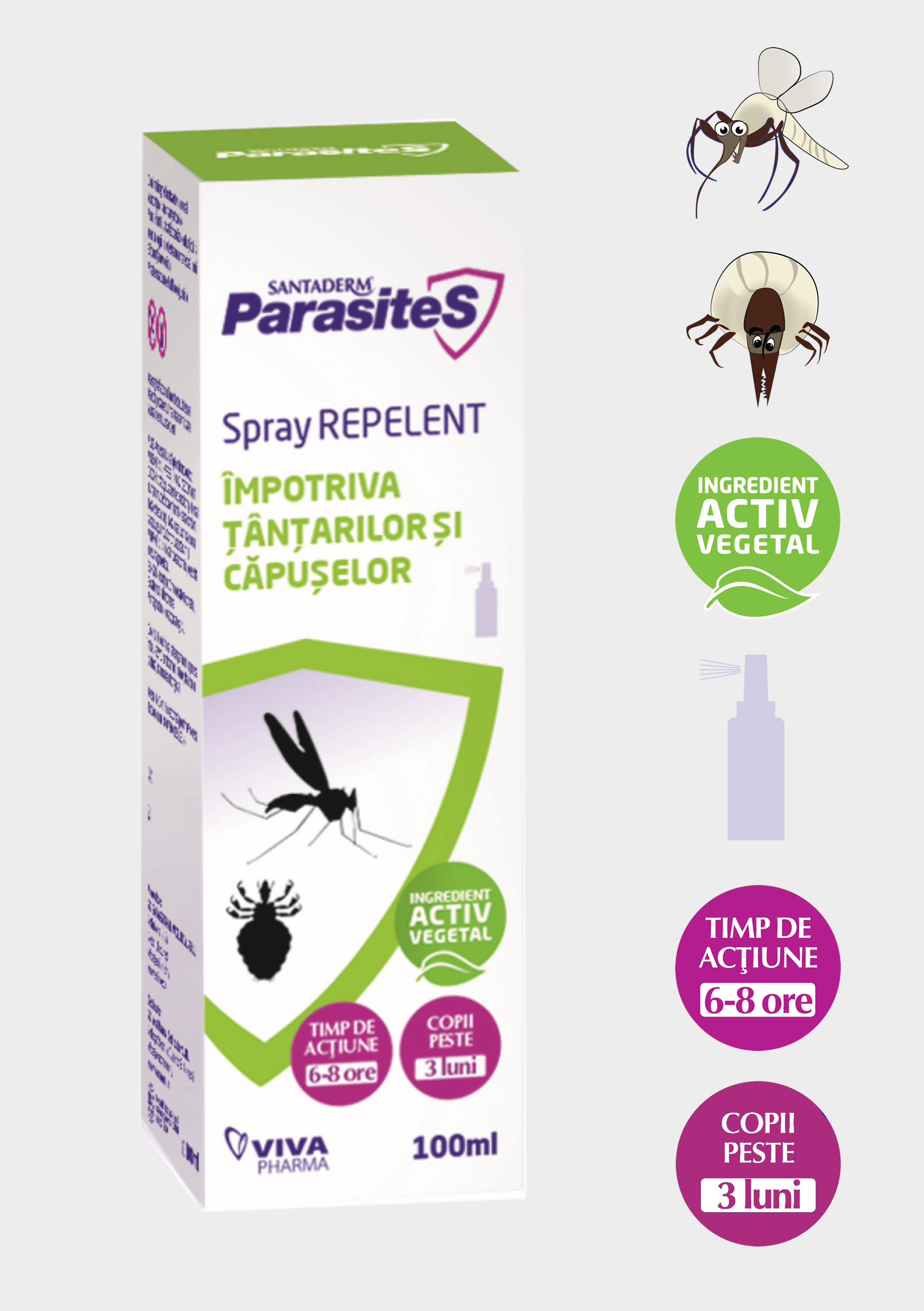 ---
Ingredients
---
Water, Citriodiol®, Propylene glycol, Polysorbate 80, PEG-150 Distearate.
Active Ingredient: Citriodiol® (CAS 1245629-80-4) at a concentration of 12.5% (125ml / L).
INSECTS REPELLENT SPRAY 100 ML
Contains natural active ingredient
It can be used by adults as well as for children over 3 months
Proven effectiveness
Environment friendly
---
Action
---
SANTADERM PARASITES INSECTS REPELLENT SPRAY is a biocidal product for the rejection of mosquitoes (Culex pipiens) and ticks (Ixodes ricinus), containing an active and natural ingredient, Citriodiol®, that is a mixture of cis- and trans-p-mentans -3-diol, extracted from a species of Eucalyptus (Eucaliptus citriodora).

The active ingredient of the product - Citriodiol® is obtained from oil and Eucalyptus (lemon) extract that has an insect repellent action, proven by studies on both this active ingredient and SantaDerm ParasiteS Repellent Spray against mosquitoes and ticks.

The action time of the repellent spray is about 6-8 hours, which has been established after performing the product efficiency tests.

If the area affected by mosquitoes or ticks is aggravated by scratching, the lesion produced may be infected, resulting in complications. If you have been struck by these haematopoietic insects, apply immediately to the spot the INSECTS BITES CALMING GEL which, through the content of essential oils, diminishes the itching sensation, has anti-inflammatory effect and soothes pain.
---
Usage
---
The product's effectiveness is 6-8 hours.

Spray the product as it is (undiluted) on the skin, clothes, or surfaces that you want to remove mosquitoes or ticks from a distance of about 20-25 cm until the surface is completely damp and allow to evaporate. Avoid spraying the product in the direction of the eyes. The amount of product for use varies depending on the size of the surface on which it is applied.

It can be used by adults as well as for children over 3 months.
*Safely use biocid products! Always read the label and product instructions before usage.